I am now having a weekly

Freaky Friday

meme party.
What is Freaky Friday?


It is a linky meme party where we can share freaky, weird or odd photos/articles but please keep the content family-friendly. To participate in this meme party, read below:
Freaky Friday linky tool will be posted every Thursday evening..
You will need to post your Freaky Friday on your blog.
Add the Meme Link button below to your Freaky Friday blog post. The button will link to the Freaky Friday post, so that others will navigate back here to see more freaky posts.
Come back over here and link up your Freaky Friday blog post to the list.
Freaky Friday Meme Link Button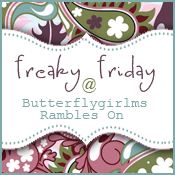 I look forward to seeing some Freaky Friday posts :)
Once you've linked up to the meme party, I would love for you to grab the Freaky Friday button and add it on your blog. Spread the word to all your friends about this new meme party so we can get as many great entries as possible :) I think it would be fun to see some freaky stuff!