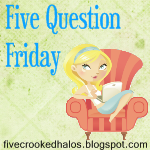 Here I am participating in Five Questions Friday hosted by
Mama M
.
1.
What do you do when you have time to yourself?
Either I design or catch up on my shows on the DVR
2.
When you look out your kitchen window, what do you see?
3.
Who/What would you want to be reincarnated as?
Butterfly
4.
What is your biggest pet peeve about other people's kids?
leaving trash in my yard
5.
Regular or Diet soda?
Regular