Why bother spewing verbal vomit when you can sum it all up in one neat little post it note?
That One Mom
is now hosting Post It Note Tuesdays!
Go check her out, she's pretty cool!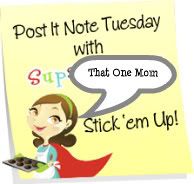 TO CREATE your Post It Note, click
here
, save them to your computer and then upload them to your blog post.