Why bother spewing verbal vomit when you can sum it all up in one neat little post it note?
Hosted by
SupahMommy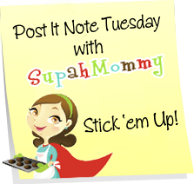 TO CREATE your Post It Note, click
here
, save them to your computer and then upload them to your blog post. Go back to
Supah Mommy
on Tuesday to link up your post with Mr. Linky and to meet some other fantastic bloggers. See what they have to say on " Post It Note Tuesdays.. with Supah Mommy."